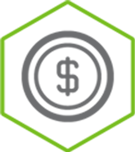 For 2019, Cost category has a weightage of 15% in overall MIPS score. Individual eligible clinicians or groups will be scored on Ten measures included in the Cost performance category for 2019 MIPS Performance period:
Total Per Capita Costs for all Attributed Beneficiaries(TPCC)
Medicare Spending Per Beneficiary (MSPB) and
Eight episode-based cost measures.
CMS will calculate Cost category score based on eligible clinicians/practices' performance compared to the measure benchmark. Individual MIPS eligible clinicians and groups don't have to submit any other information for the Cost performance category.