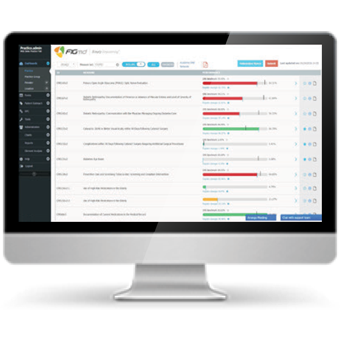 FIGmd, a wholly owned subsidiary of MRO Corp is a leading Registry operator in the United States and handles submission and reporting requirements for over 77,000 providers.
Polaris, a FIGmd hosted registry, offers a simplified and innovative approach for MIPS reporting.
Polaris is a CMS-approved Qualified Registry (QR) for 2023. Polaris operates on cutting-edge 2015 ONC HIT certified platform and caters to solo and multi-specialty practices.
Polaris offers end-to-end data integration with over 150 EHR vendors as well as a comprehensive and user-friendly intuitive dashboard.
Providers and practices participating in MIPS through Polaris can avail the following benefits:
●      Report on all 3 MIPS categories (Quality, Promoting Interoperability (PI), and Improvement Activities (IA))
●      Being a part of Polaris, one can report "Clinical Data Registry Reporting" measure in PI Category
●      Qualify for various improvement activities
●      Eligible providers and practices can choose from a variety of plans to participate in as an individual, or as part of a group or a virtual group
Please see below, if we have already integrated with your EHR.
Advanced Data System – Docassistant
Allmeds
Allscripts
AltaPoint
Althea
Amazing Charts
American Medical Software
AntWorks
Aprima
Aria
Athenahealth
CareCloud
Casamba
Centricity Practice Solution
Cerner
CGM Clinical
ChartMaker
Chart Perfect
ChartLogic
CMR EDIS
Compulink
Crystal PM
CureMd
Cyfluent
DoctorSoft
Docutap
DrChrono
DRS Enterprise
DSN
eClinicalWorks
ehrThomas
eMDs – Lytec MD
eMDs – Medisoft Clinical
eMDs – PLUS
eMDs – Practice Choice
eMDs – Practice Partner
eMDs – Solution Series
Emedicalnotes
eMedRec
Empower
EnableDoc
Encite
Epic
EPOWERdoc
Essentia
Exam Writer
Exscribe E-Record
EyeDoc EMR
EYEMD
EyePegasus
EZ Docs
FDPLIS
First Insight
FlexMedical/Oceris
GE Centricity
GEMMS
Geniusdoc
Glace
Glow Stream
Greenway Intergy
Greenway/Primesuite
HCIT
HelloHealth
iClinic
iFA
iMedicWare
IMS
inSync
Integrity
Sage Intergy – Progress database engine
IO Practiceware
iPatientCare
Key Chart
KeyMedical Software
MacPractice MD
Management Plus
Mastermind EHR
Maxim Eyes SQL
McKesson
MD Office
MDIntelleSys/Intellechart
MDRhythm
MDSuite
MDSynergy
Medent
Medflow
MEDHOST EDIS
Medics DocAssistant
Medinformatix
Medisoft
Meditab
Meditech
Medpointe – HST
Medstreaming
MedTrio
Meridian (Medical Management)
MicroMD
Modernizing Medicine
MOSAIQ
MOSES Cloud Complete
My Vision Express
NeoMed
Netsmart MyAvatar
Nexconnex
Nextech
NextGen
Office Practicum
OfficeMate
OMSVision
Open EMR
OptimisPT
Origin
Paragon WebStation
PatientNOW
PCIS Gold
Pegasus
Perfect Care
PICIS
Practice Studio
Praxis EMR
Precision Practice Management
Prime Clinical System
PRO EHR
PrognoCIS
Pulse EHR
Quanum
Raintree Systems/RheumDocs
RPMS
SequelMed
SRS Soft
STI
StrataPT
Streamlinemd
Successehs/Vitera
SuiteMed IMS
Systemedx
TrieMed
TSystem
TurboPT
UniCharts
UnifiMD
Urochart
Valant Premium Psychiatric Suite
Varian – Aria
VersaSuite
Vitera EMR
Waiting Room Solutions
WinOMS/Carestream
Zybex
2023 MIPS Reporting Categories
FIGmd Inc., 6952 Rote Rd Suite 400, Rockford, IL 61107 | Phone: +1 209 643-4463 (8 am – 6 pm central time)